Beauty has an address - Oman
There is so much to experience here, we invite you to come and see for yourself !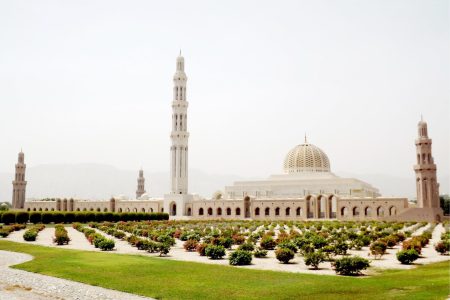 The Sultanate of Oman is a hidden gem situated on the southeast corner of the Arabian Peninsula. Omani people take pride in their enriching cultural heritage and make an effort to conserve this wealth. This is evident in the breathtaking diversity available in the Sultanate, combining versatile mountain ranges, breathtaking wadis, enchanting deserts and endless coastlines in a balance of natural beauty and rich history.
Oman encompasses an unparalleled number of UNESCO-classified World Heritage Sites, from the beehive tombs of the archeological site of Bat, dating back 3000 years, to the mysterious Bahla Fort, and Ras Al-Jinz which is the abode of the exceptional Green SeaTurtles.
Experience a holiday like no other as you explore cultural arts, folk arts and performances in our Sultanate.
Immerse yourself in its ancient heritage as you walk amongst its lively souqs. Travel back in time as you visit impressive forts of architectural significance. Awaken your senses in the magical fragrances of frankincense and be mesmerized in a diversity of ancient intricate jewelry.
Oman, a hidden gem to discover
Located on the southern edge of the Arabian Peninsula, Oman is a hidden gem to discover offering breathtaking landscapes and unforgettable experiences across its diverse landscape of coastline, mountain and desert.
It's perfect combination of a cultural heritage, thrilling adventure, and peaceful tranquility ensures something for the entire family.
Get the heart pumping as you cycle the challenging trails up to Jebel Shams, abseil a waterfall in wadi Hawi exploring Oman's many hiking trails, or simply find peace of mind in a sea of stars across the desert dune. Whether you want to explore the highest ranges in the eastern Arabian Peninsula, visit breathtaking coastlines, or smell the frankincense in the air as you discover the oriental treasures of Souq Muttrah. We can tailor your perfect holiday to meet your specific needs so all you need to do is experience the fun, while we take care of the rest.  The possibilities are infinite.
Explore. Discover. Experience ..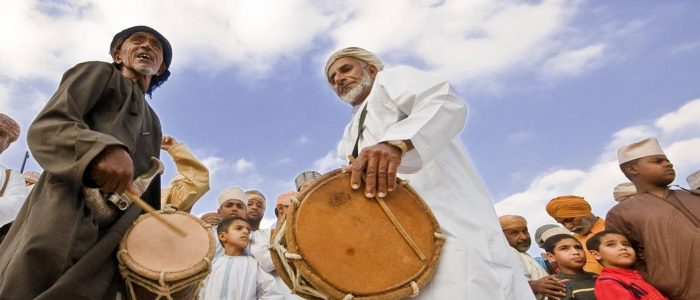 Explore Oman's rich culture through the hospitality and traditional lifestyle of its people along with its rooted traditions in arts, folk dances, handicrafts, cuisines, architecture, and traditional costumes.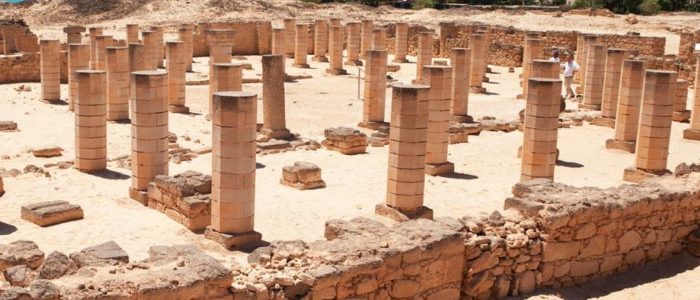 Discover Oman's history dating back centuries in visits to its forts, archeological sites and museums.
Discover Oman's history dating back centuries in visits to its forts, archeological sites and museums.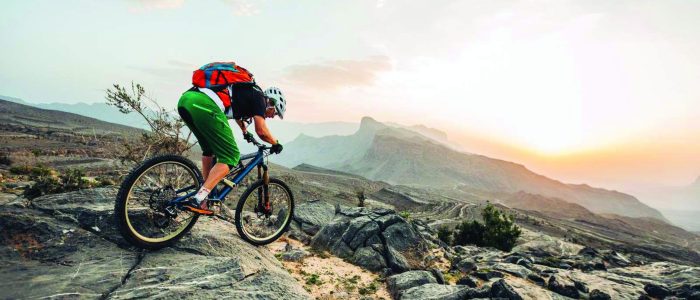 Enjoy thrilling adventures across Oman's diverse landscape from hiking, abseiling, biking, boating .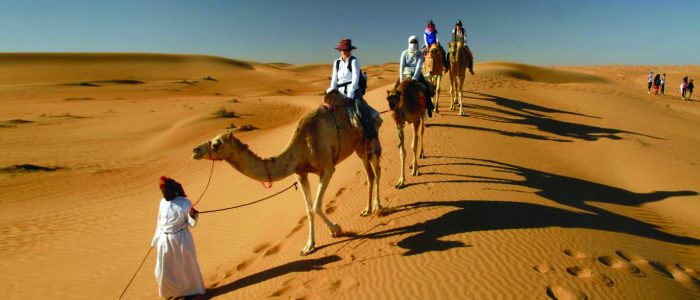 Find peace of mind across Oman's breathtaking terrains and stunning coastlines.
309,500 sq km (119,500 sq miles)
4.471 million (2020census)
Muscat & Population: 1.302 million (2020census)
The Sultanate of Oman occupies the southeastern tip of the Arabian Peninsula with almost 1700km (1062 miles) of coastline stretching along the Indian Ocean and the Arabian Gulf. Oman lies between latitudes 16° and 28° N, and longitudes 52° and 60° E.
Sultanate since 1744. Head of State and Government: Sultan Haitham bin Tarik Al Said since 2020.
Arabic is the official language. English is widely spoken. Swahili is also spoken by the population from East Africa, and Hindi/Baluchi by the population descending from Baluchistan.
Locals are predominantly Ibadi Muslim, with Sunni and Shi'ite Muslims as minorities. Other faiths are also respected and expatriates are mostly of Christian and Hindu religions.
October to March the weather is cool. May through August is usually hot and humid with September & April being warm.
Visitors to Oman must obtain a visa prior to travel through the Royal Oman Police (ROP). For detailed information, please visit their site; https://evisa.rop.gov.om
The unit of currency is Omani Rial (RO 1 = US$ 2.6), which is divided into 1000 baizas. Notes are available in denominations of OMR 50, 20, 10, 5, 1, ½ rial, and 100 Baizas. Coins are also in use for units under 100 Baizas.
220/240 volts AC, 50Hz. 3 Pin British type plug.
Telephone: International Country code is +968. Mobile telephone: GSM 5G network. The 3 main telecom operators are Omantel, Ooredoo, and Vodafone. Visitors can avoid roaming charges by purchasing a pre-paid SIM card with a data package at Muscat Airport or at their designated outlets in shopping malls.
Internet is readily available across the country with free WIFI in most properties.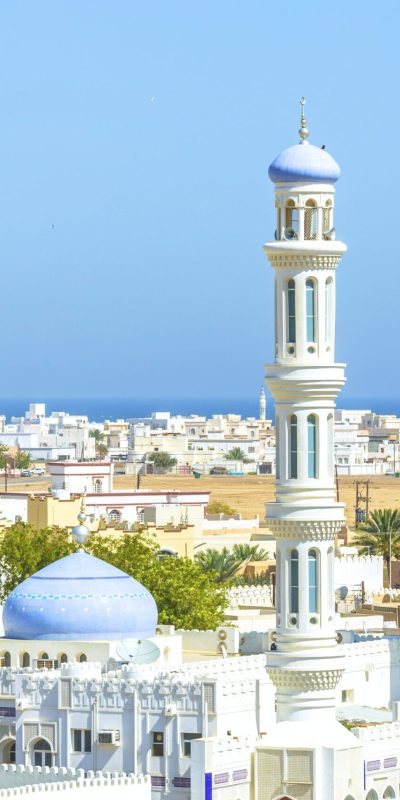 DISCOVER DIVERSE FLORA AND FAUNA
DHOFAR FRANKINCENSE TREES, MANGROVE BIRDS, SEA TURTLES IN RAZ AL JINZ, SEA MAMMALS AROUND MASIRAH ISLAND, MOUFLONS (WILD SHEEP) IN THE JABAL AKHDAR MOUNTAINS, AN ORYX RESERVE IN THE DESERT: OMAN HAS A VARIETY OF ECOSYSTEMS, WITH MORE THAN 80 VARIETIES OF TYPICAL ENDEMIC PLANTS FROM THE DESERT AND NEARLY 400 SPECIES OF BIRDS.
[iheu_ultimate_oxi id="4″]
A legacy that has been generation; the art, the culture, the folklore and the artistry has to be seen. But there is much more in the heart of Oman to explore: the sense of respect for time, for people, and for nature. Come and taste a part of Oman's rich heritage, kept alive and unchanged for generations. It may help you understand tomorrow a little better.
For its size, Oman boasts an unprecedented number of UNESCO-classified World Heritage Sites including Al-Blaid; site of the ancient city of Zafar, Bat—with its tombs dating back 3,000 years, Bahla Fort, and R'as Al-Hadd; home to the rare Green Sea Tturtle. Oman's heritage features a prominent sea-faring tradition, as one would expect from a country with 1,700Km of coastline. Many museums and galleries around the secluded and historic harbours of Muscat and Muttrah illuminate the importance of the sea and, indeed, of water generally, throughout Oman's 5,000 year-old history.
The national dress for Omani men is a simple, ankle-length, collarless gown with long sleeves called the Dishdasha. The colour most frequently worn is white, although a variety of other colours such as black, blue, brown and lilac can also be seen. Its main adornment is a tassel (Furakha) sewn into the neckline, which can be impregnated with perfume. Underneath the dishdasha, a plain piece of cloth covering the body is worn from the waist down. Omani men may wear a variety of head dresses. The muzzar is a square of finely woven woollen or cotton fabric, wrapped and folded into a turban. Underneath, the kummar–an intricately embroidered cap, is sometimes worn.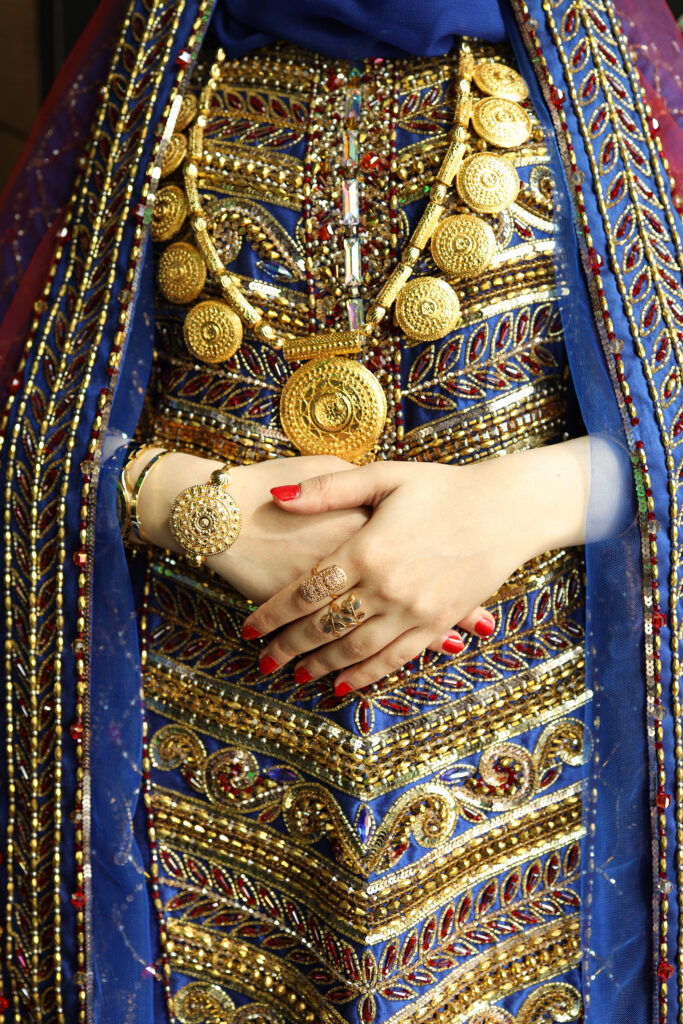 Omani women are distinguished from their Arab Gulf neighbours by their eye-catching national costumes which distinctively vary from one region of the country to another. The choice of colours, especially in the past, was linked to a tribe's tradition. Nevertheless, all costumes demonstrate vivid colours and vibrant embroidery and decorations. The basic components of the Omani costume comprise of a dress (dishdasha) worn over trousers (sirwal), a loose-overdress-cum-cloak (thub) and head shawl called lihaf. In public, women in the Capital Area wear a loose black cloak (abaya) while in some regions a face mask (burqa) is still worn. The Omani costume has been fashioned not only to protect from outside elements but also to serve useful purposes, often to store important items.
The Khanjar is worn in a leather sheath at the front of the body in a special belt, in a tradition which is unique to Oman. It is a symbol of a man's origins, his manhood, courage and deep-rooted traditions. The national dress is not complete without it and men wear the Khanjar at all public engagements and festivals. The Khanjar has played an important role in Oman's history and this fact is reflected in the incorporation of its image into the Omani National Flag. The Khanjar consists of the hilt, which is made of silver, or ivory in the case of the ancient weapons; the shaft– decorated with bands of silver or gold wire; and the blade.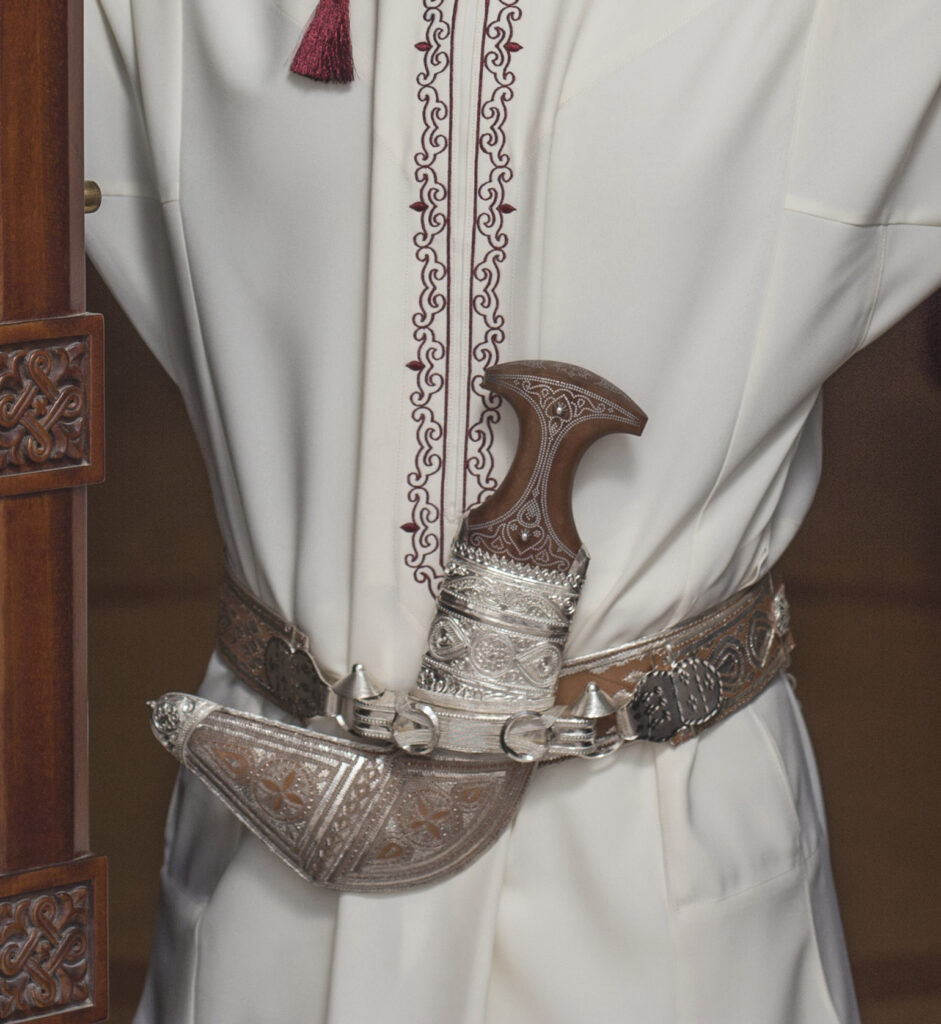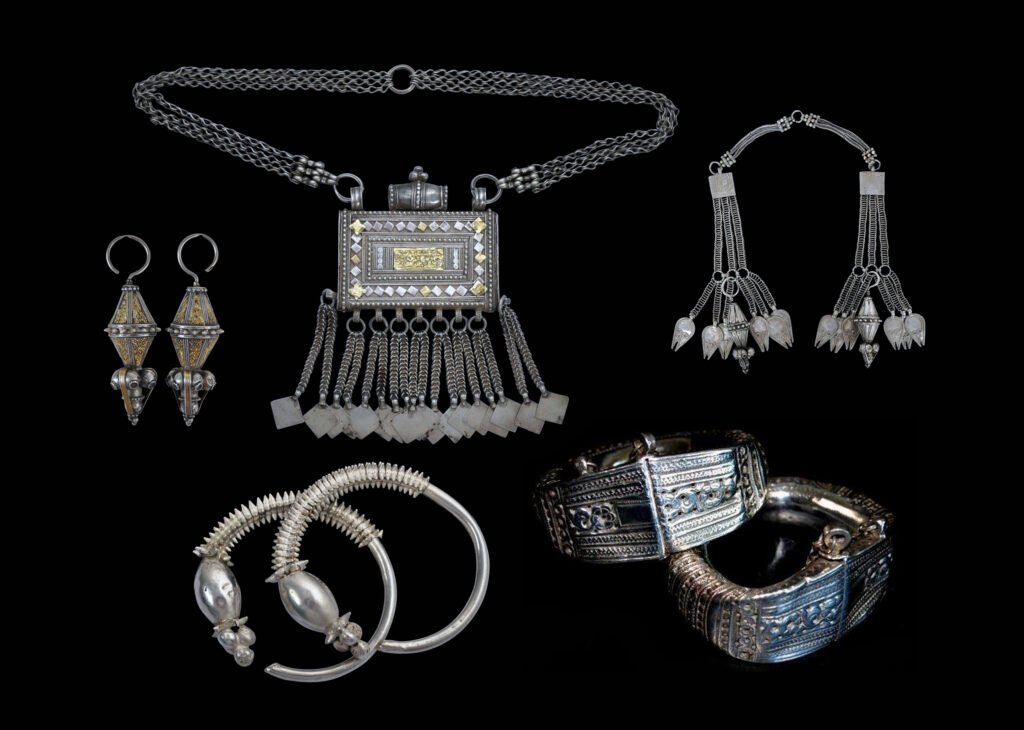 The jewellery worn by Omani women is fashioned mainly from gold, although the traditional metal was silver. Work is very intricate and elaborate patterns and symbols, including Quranic calligraphy, is engraved into the metal. Omani women have used natural cosmetics and beauty preparations for centuries and despite the supply of brand name cosmetics sold in department stores and supermarkets, the traditional products are still available at souqs all over the Sultanate. Kohl is still used to enhance the eyes and is applied with a small stick made from silver (marwat) or wood. Indigo is also used as a 'skin wash'. Indigo is also applied to the face in decorative patterns for festivals and celebrations, such as weddings. Many women in Oman paint their hands and feet with pastes of henna, particularly before special occasions such as Eid holidays or weddings. The paste is applied in patterns on the hands and feet, which, when dried, leaves a temporary orange/brown design that fades after around three weeks.
The dress code is fairly liberal in Muscat, although decency is still expected. Women should wear, for example, tops with sleeves, and long skirts or trousers. Men are required to wear trousers and shirts with sleeves. Swimwear should be restricted to the beach or pools.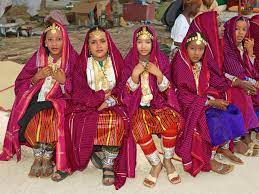 If you are someone who has an understanding and appreciation of history, arts, architecture and the intricacies of a civil society, Oman is the place for you. From the ancient city of Nizwa to the towns along the coast to the Capital to Salalah, all seeped in history, you can experience Oman's sense of timelessness. The Sultanate enjoys an unspoiled culture and traditional lifestyle in almost every aspect. Even in its modernity, Oman is distinctly Arabic and offers many unique old-world wonders.
The Omani culture has its roots firmly deep in the Islamic religion. Oman developed its own particular form of Islam, called Ibadhism, after its founder, Abdullah Ibn Ibadh who lived during the 7th century AD. Not all Omanis are Ibadhis however; there are also Sunni and Shi'a Muslims. Omanis are not only tolerant of the beliefs of different Muslim divisions; they are also tolerant towards believers of other faiths, who are allowed to practice their religion in churches and temples. Muslims are required to pray five times each day after the call to prayer by the Imam. Beautiful, ornate mosques are found throughout the Sultanate, but they are not open to non-Muslim visitors.
The holy month of Ramadhan is a time of fasting and praying. For around 29 to 30 days each Islamic year, Muslims refrain from smoking, eating and drinking during the hours of fasting (from sunrise to sunset). Ramadhan advances 10 to 11 days each year as it is governed by the lunar calendar. Out of respect, non-Muslim residents and visitors to the Sultanate are expected to observe the same principles in public.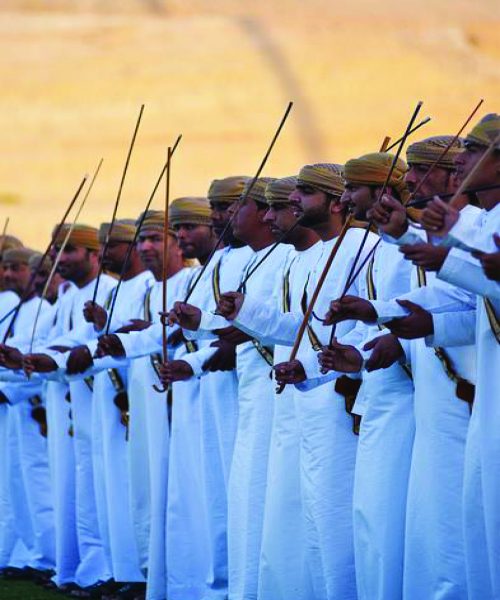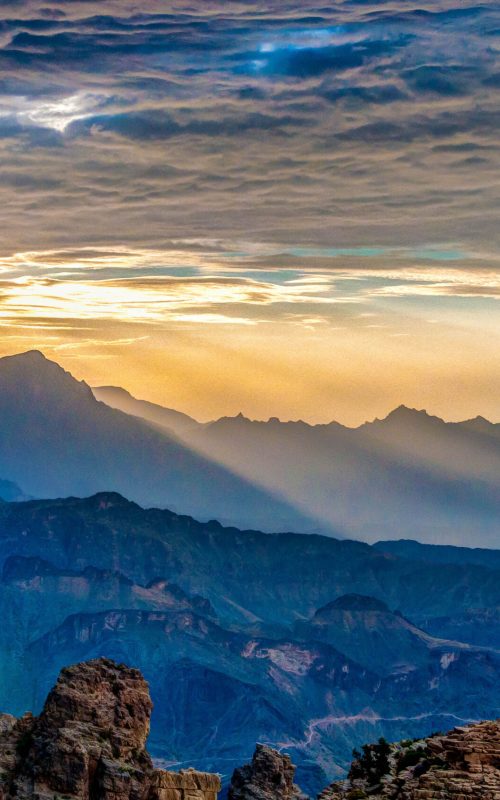 The Sultanate of Oman is situated on the southeast corner of the Arabian Peninsula and is located between Latitudes 16° 40′ and 26° 20′ North and Longitudes 51° 50′ and 59° 40′ East. The coastline extends 1,700 Km from the Strait of Hormuz in the north, to the borders of the Republic of Yemen in the south and overlooks three seas: the Arabian Gulf, Gulf of Oman and the Arabian Sea.
The Sultanate borders Kingdom of Saudi Arabia in the West; the United Arab Emirates in the Northeast, the Republic of Yemen in the South; the Strait of Hormuz in the North and the Arabian Sea in the East. The Musandam Peninsula forms the country's northern tip, and is separated from the rest of the Sultanate by United Arab Emirates' eastern coast and includes the only coast the Sultanate has on the Arabian Gulf. Musandam is just over 50 Km (30 miles) south of the Islamic Republic of Iran across the Strait of Hormuz. The total land area is around 309,500 Km2 and it is the third largest country in the Arabian Peninsula.
Seeb International Airport is located 40 km from Muscat City Centre and also serves domestic flights. There are frequent direct flights from a number of European, Asian and African cities. There are excellent connections from all over the world with Gulf Air, Qatar Airways, Emirates, British Airways, Lufthansa, Kuwait Airways, Swiss and Thai.
Oman is very much accessible by road from the United Arab Emirates. Dubai is 450 kms away from the Oman capital, Muscat and it takes approximately 4.5 hours to get there by road. There are buses (private and Government owned) buses, which ply between Dubai and Muscat every day.